Is there really a fountain of youth? Nobody knows for sure, but there are some things that might help you find out.
Everybody wants to be younger.  Men in particular miss the vitality and appearance of their younger years.  Guys like to look good, and the ladies they love want them to look good, too.
There are all kinds of things you can do to help you re-capture your youth.  Here are five that might be suited just for you.
1. Hair grafts that restore a "young" head of hair. Male pattern baldness—androgenic alopecia—affects a lot of men, sometimes beginning at a young age. For guys looking for a permanent solution to hair loss, there's the popular option of grafting (transplanting) healthy hair from parts of your scalp onto the areas that are thinning.  In recent years, grafting has become an efficient, and inexpensive, method of replacing dead follicles with healthy ones that will continue to grow.  You'll gain a lot of confidence when you see the new hair take root—and you'll look years younger.
2. Treatments for the skin. Men are learning that it's okay to take care of their skin. Well-cared for skin looks better, feels better, and is healthier.  Reducing or eliminating spots, lines, or wrinkles brought on by age is an important aspect of restoring your youth.  From simple techniques like exfoliation or topical cream applications, to more assertive treatments such as Botox injections, laser treatments, or derma fillers that restore cost collagen, you can take years off your appearance with smooth, vibrant looking skin.  Why should women be the only ones to pamper their skin?
3. Fat reduction techniques. As we get older, it's easier to put on extra pounds, and a lot harder to take them off. Exercise and diet play a big role in keeping a boyish figure, but sometimes it's not enough to ward off a "beer belly."  Cryolipolysis—the use of "cool" lasers—to reduce fat (adipose tissue) has become a popular way to bring back the physique of your younger years.  It's non-invasive and there's no pain involved.  And the more fat you take off, the better able you'll be to enhance muscle tone and build back to what you once had.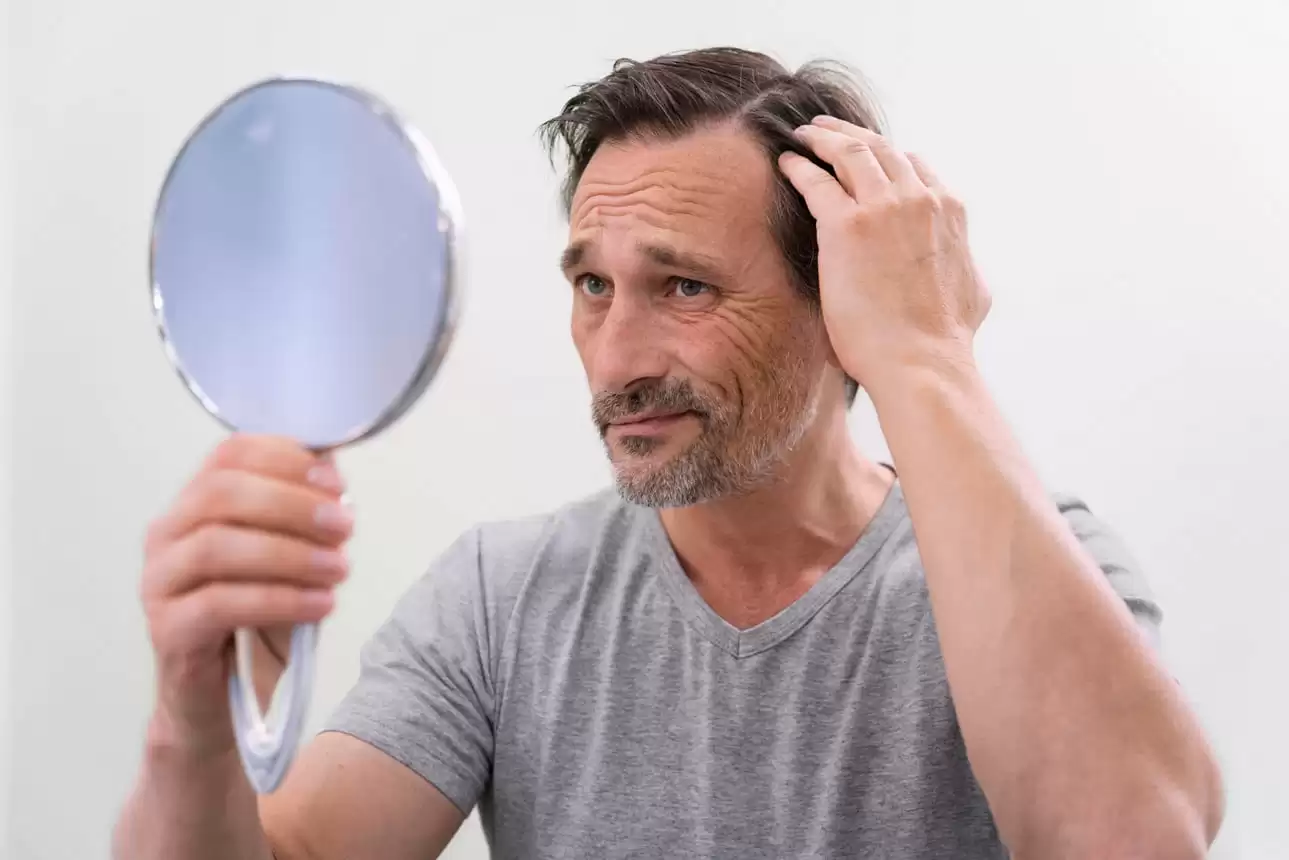 4. Hair removal. It's ironic—you want a full head of hair, but there are other places you'd rather not see it. Nothing's more of a turn-off than hair in your ears or nose, places where it tends to show up as men get older.  Routine hair trimming in these places can make you feel young again.  Hair in other parts of your body where it isn't wanted—back, chest, legs, armpits—can be easily taken care of by waxing or through laser treatments that will leave you looking smooth and young.  You can even enjoy an occasional old-fashioned straight razor shave to keep facial hair at bay.  And smooth skin is more vibrant, youthful, and hygienic.
5. Herbal remedies to maintain youth and health. A healthy body is the best advertisement for a young body! It's no secret nowadays that holistic medicine can help reduce inflammation and oxidative stress, while at the same time improving circulation and natural immunity, which are all keys to looking and feeling good.  Health supplements can also give you more energy, boost your workout routines, build more muscle, and help restore your romantic passions.  All medications, natural or prescription, should always be taken under the supervision of a health care professional.
And remember:  These treatments don't have to be taken one at a time!   You can work on these together as you travel along your return-to-youth journey.  Once you get the momentum going, there'll be no stopping you!
Let Hairfix Help You!
A good start to reclaiming your youth is focusing on one of the first things people notice about you: Your face and hair.  And that's the specialty of Hairfix, located in Tijuana, just a short drive from San Diego and the beautiful Baja coast.  The doctors at Hairfix can tailor the right hair grafting solution to meet your hair restoration in Mexico needs, including mesotherapy, which is a series of delicate injections of vitamin supplements to the scalp.  The qualified medical staff can also help with beard and eyebrow transplants.  And you'll start your return to youth under only the best qualified medical care around, and at a cost much lower than you'd find in the United States.
We Take Care of it All
Our treatment packages include much more than the actual treatment itself.  When you come to Hairfix, you'll be accommodated with two days' lodging at the beautiful Quartz Hotel and Spa, and we'll provide your transportation to and from nearby San Diego.  Your treatment plan also includes all pre- and post-operation medications, and careful supervision along the way.  The staff speaks English and Spanish.  So there is no reason to hesitate: contact Hairfix, the hair transplant clinic in Mexico.