BEARD TRANSPLANT: YOUR BEST OPTION TO FIX BALD SPOTS
Have you tried different treatments to grow your beard and mustache, and the results have not been what you expected? If so, we bring you an effective solution to achieve fuller-looking facial hair: a beard transplant!
At HairFix, we want to help you achieve your desired look; that is why our team of specialized doctors will design your beard and mustache according to the shape of your face, age, style, and needs.
The mustache and beard transplantation we perform is a simple and minimally invasive procedure where the follicles are carefully transplanted one by one from the back of the head – known as donor area – to the regions where more density is wanted (recipient area).
BEARD TRANSPLANT BEFORE AND AFTER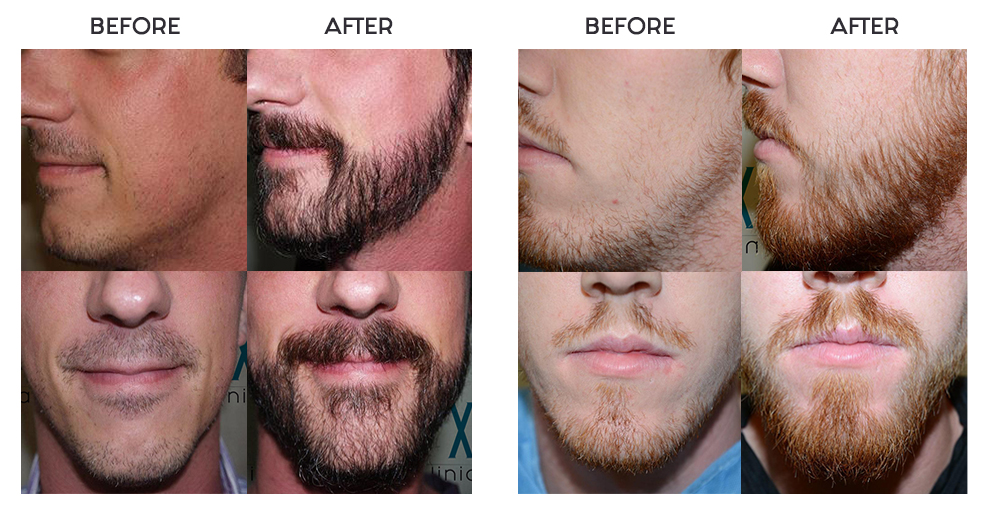 BEARD TRANSPLANTATION PROCEDURE: HOW IS IT DONE?
Most beard transplants are performed using a technique that involves removing hair follicles to transplant them into another area to ensure the best texture and coverage.
The doctor makes small incisions in the beard to determine the best direction and growth pattern in the beard in which the hair grafts will be placed. As it is an outpatient procedure, only local anesthesia is applied, which means that you will be conscious, but you will not feel pain.
Here we explain how our certified specialists carry out this technique that will allow you to have a more natural appearance and design the style of your beard and mustache as you wish.
EXTRACTION PHASE
The doctor will define the areas to be treated; this examination allows the physician to determine the number of follicles required to cover the area where the patient is experiencing hair loss; the follicles are extracted from the back of the head.
The selection of follicles is done carefully, choosing only the ones in optimal conditions to
ensure positive results.
IMPLANTATION PHASE
Once the required follicles are extracted, they will be implanted in the beard and mustache areas where more density is wanted. The procedure is carried out meticulously. The doctor uses specially designed instruments to control the direction, depth, and angle that each follicle requires to achieve a natural look.
At the end of the procedure, the patient must follow a postoperative care guide provided by the medical team. By doing this, the patient will be seeing his hair growth evolving without complications, achieving a better hairline and a fuller-looking mane with no bald spots.