Spring time equals getting refreshed at the beach or swimming pools while on vacation! You can enjoy a great time on these last ones, however, they contain various chemicals that can be harmful to your hair, especially one called chlorine. 
What Is Chlorine?
Chlorine is common in most public and private swimming pools. It is a strong chemical that many health specialists say is dangerous for our health, especially for the skin and eyes. Chlorine has an effect that causes dryness and irritation if you have prolonged exposure to it. Average chlorine concentrations are adequate to keep swimming pools clean, however, low concentrations in pool water can still damage your hair.
The Effect Of Chlorine On Your Hair
A scientific journal of dermatology published a study that analyzed the effect of chlorine on hair to find out if chlorine increased your risk of hair loss. This study worked with sixty-seven professional swimmers and fifty-four non-swimmers and found that 61% of them showed some dryness and low discoloration. 
While swimming in a pool with chlorinated water may discolor your hair, there's still no solid evidence of chlorine water directly provoking hair loss in a severe way.
Does Chlorinated Water Cause Hair Loss?
No, it doesn't! Pool water may cause dryness to your hair, but it will not cause you to experience severe hair loss. It is important to know that even if pools don't commonly contribute to hair loss, they should have a pH level between 7.2 and 7.8. If the pool water has more chlorine levels, the water becomes more alkaline. You can experience hair loss due to the high chlorine levels in the water, however, the chances of this happening are low.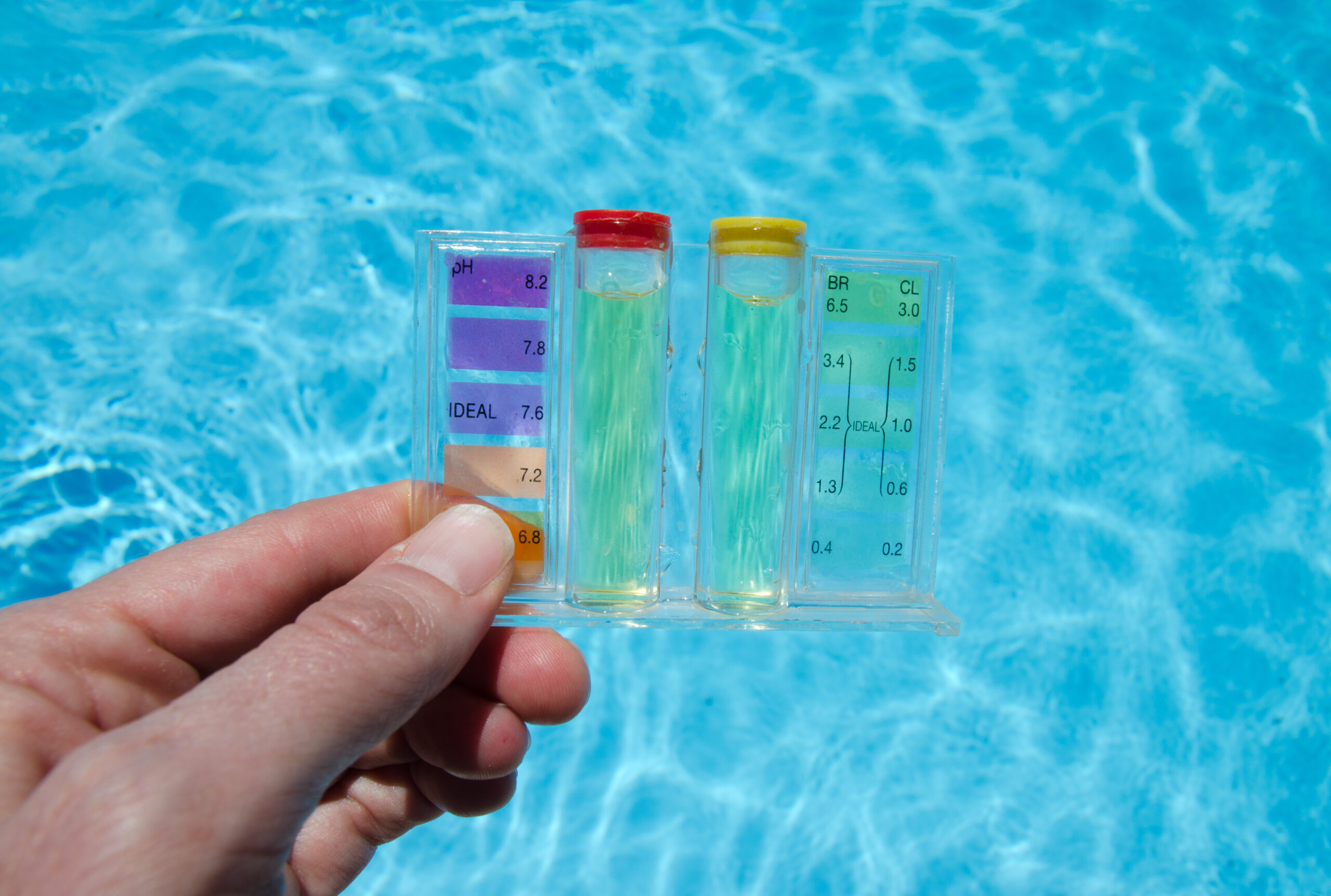 Tips To Protect Your Hair From Chlorinated Water
Rinse And Wet Your Hair Before And After Entering The Pool. 

When you wash your hair with non-chlorinated water or clean tap water before entering the pool, your hair absorbs that water, minimizing the amount of chlorine absorbed. Also, it is a good idea to rinse your hair with clean water after swimming. For deeper cleaning, you can apply a clarifying shampoo.  

Use Gentle Shampoos.

Regardless of your hair type, we recommend using a sulfate-free shampoo followed by a conditioner after swimming. This helps to clean the chlorine from your hair. 

Wear A Swimming Cap.

If you constantly go to the pool and spend a lot of time swimming, we recommend you to wear a swim cap, swim caps prevent chlorine from reaching your hair, just don't forget to wear it over wet hair to be easier to fit on your head. 

Use Swim Spray.

Swim spray can be used to remove chlorine from the hair and skin. It is especially recommended for people with blonde hair (so it doesn't get a greenish tone).

Let Your Hair Completely Air Dry. If your hair needs additional drying after air-drying, use a towel to dry the excess water. Avoid blow dryers, as they dry your hair more.
You May Also Like: 5 Vitamins To Boost Your Hair Growth  
How To Fix Chlorine-Damaged Hair
Deep condition your hair.

Deep conditioners are thicker, richer treatments designed to repair, strengthen, and deeply hydrate your hair. If your mane got dry, using this type of product can help make your hair softer and healthier over time.     

Minoxidil For Hair Loss.

If your hair loss started to get worse after the vacations and believe that factors like sun exposure, prolonged time at the swimming pool, and others, negatively contributed to this, you can try alternatives like using

minoxidil

, one of the most effective non-surgical solutions for hair growth. 

Mesotherapy

. This is a minimally invasive procedure that uses micro-injections of vitamins, antioxidants, enzymes, minerals, and amino acids to improve hair quality in terms of strength, growth, and volume.

Mesotherapy

is perfect to repair and boost your hair's health after the vacation period. 
What Happens If Your Hair Keeps Falling?
If after trying all of the solutions mentioned above, you still notice your hair falling in areas like your crown or temples, then you might be dealing with male pattern baldness. If this is your case and you want to permanently fix it, we have the ultimate solution: a hair transplant!  
Hair Transplant In Tijuana
A hair transplant is a medical procedure that consists in the implantation of follicles from the same patient to fill the areas where more density is wanted. The treatment is performed by extracting strong, healthy hair from the back of the head – known as donor area – to be later implanted in the areas affected by hair loss (hairline, crown, temples). There are different methods for hair implantation; at Hairfix, we use the DHI (Direct Hair Implantation) technique, the best worldwide. 
How Does Hair Restoration Work?
The specialist determines the volume of follicles to be removed, ensuring that only the necessary hair is extracted to fill the bald areas successfully.
There are two steps on this procedure:
Extraction Phase.

During the first phase, follicle extraction begins using a specialized tool. This tool allows the entire procedure to be carried out safely and without pain. 

 Implantation Phase.

The second phase consists of the doctor implanting the hair in the areas where more volume is required, fully controlling the depth, angle, and direction of each follicle to achieve natural results.

 
Ver esta publicación en Instagram
How Much Does A Hair Transplant Cost?
At Hairfix, the hair transplant cost starts from as low as $2,990 USD. You can get a personalized quote by scheduling a video call consultation with our hair specialists. 
How Long Do Hair Transplant Last?
The transplanted hair is permanent, meaning it will last a lifetime! However, it is important for you to know that – if you have male pattern baldness – your remaining natural hair will keep falling unless you have a complementary treatment.
Is Hair Transplant A Success Or Failure?
A hair transplant has a graft survival rate between 85-95%, which means that most hair will quickly adapt and grow in the transplanted areas.
You May Also Like: Hair Transplant Success Rate: 5 Influencing Factor
Whether you are looking to prevent hair loss or restore your hair from damage caused by chlorine or other factors, we are here to help you with the best services such as hair transplant in Mexico. Contact our hair loss doctor in Mexico today and schedule an appointment!