Hair loss seems to be a normal occurrence; part of a cycle through which hair fibers regenerate, so it is common to lose between 25 and 60 hairs per day. However, when this situation worsens and there is a daily loss of more than 100 hairs, the cause is probably some type of alopecia hair loss.
Alopecia is a condition that causes hair loss, affecting the scalp but, in some cases, also other parts of the body, such as the eyebrows. There are many types and causes of alopecia hair loss. The most common is androgenic, which affects men to a greater extent, but women are also affected, although it is common for them to hide it with haircuts, hairstyles, makeup, hats or wigs.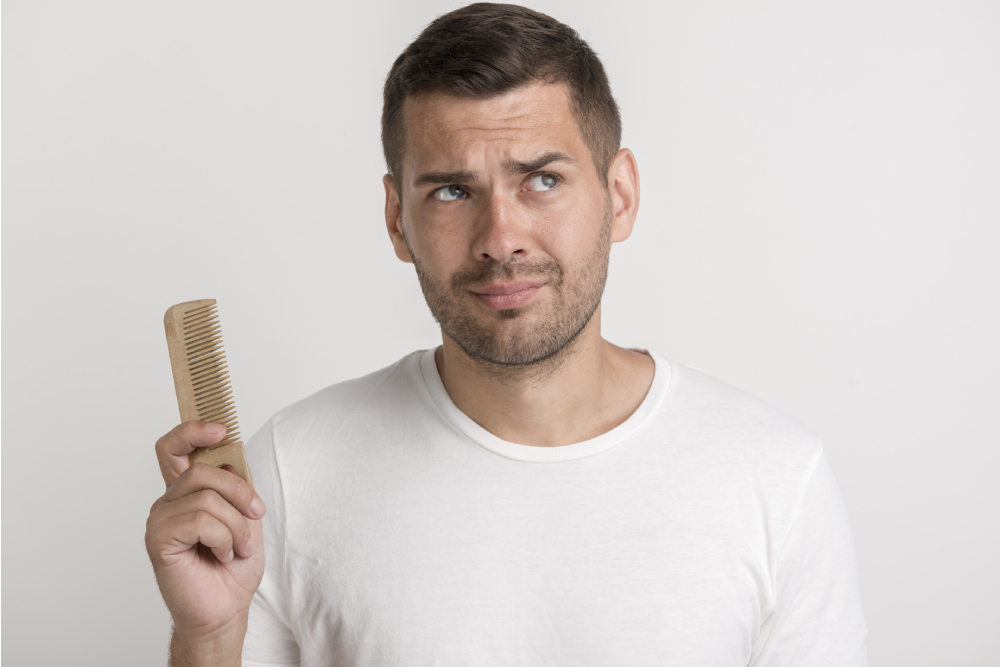 Types of alopecia and their symptoms
Androgenic alopecia hair loss. Known as common baldness, it is a condition related to male hormones. It is estimated that it affects up to 50% of men, beginning around adolescence, with inherited tendencies and hair loss on the top of the head: the recesses and the crown.
Diffuse alopecia hair loss. It is a condition produced by different causes such as: diseases, infections, hypothyroidism, hormonal alterations, nutritional deficits, medications, after childbirth, among others. It is also known as telogen effluvium and causes hair loss in different parts of the head: eyebrows, eyelashes and hair.
Alreata aopecia hair loss. It is a condition related to autoimmune diseases, anxiety and stress, in which hair falls out in patches or limited areas.
Scarring alopecia hair loss. It is produced by diseases, trauma or burns to the skin, with the danger that if the root is destroyed, the hair loss will be irreversible.
Frontal fibrous alopecia hair loss. It is a gradual loss in the upper part of the head, which is related to aging and affects both men and women; in men the hairline of the forehead begins to recede backwards, while in women the line of the hair widens.
Hair loss can begin in different ways according to its origin. Sometimes it starts suddenly, affecting only the scalp, while other times it happens in different parts of the body, such as the beard and eyebrows, with itching or pain before it falls out.
Serious diseases and their treatment (such as cancer chemotherapies) can cause thinning and loss of hair throughout the body, although it grows back some time after stopping the drug.
Ask your doctor if you notice an exaggerated increase in hair loss to avoid premature baldness and strengthen your hair. If the loss distresses you too much and you want to regain your appearance, at HairFix you will find the hair graft specialists you need. Contact us to schedule your appointment, we will gladly assist you.